I've purchased the Peak Design Everyday Backpack 20L (via the Kickstarter campaign) to be used as both a commuter laptop backpack and for weekend-trips, and the pack feels equally 'at home' being used as either; although I would recommend the 30L if you are using the pack mainly as a travel pack, yet I'll get to that later. I already own a few bags that can do both, yet I wanted to have something a bit larger and more comfortable to carry than a shoulder bag, with a laptop sleeve, and allow multi-functionality.
The actual remark I wrote before making the decision was the following:
Is it then worth the price of around €250? It is quite a bit of money for a backpack, yet I will use it everyday for the commute to the office, and for weekend trips to the Netherlands. There is then also the catch of which size to choose; the 20L or 30L. I have chosen my F-Stop Loka UL as primary weekend/photography bag, yet based on empirical evidence I currently tend to carry the LowePro Photosport 200 as photobag, and the Loka UL as travel bag. The disadvantage of the Loka UL over the Peak Design is the absence of a dedicated laptop sleeve when not packing an ICU. The LowePro laptop sleeve, actually a water bladder sleeve, isn't large enough to hold a 15-inch laptop.
My decision was made based on the fact that while I live in Madrid (Spain), I frequently have to travel for work back to the Netherlands with a laptop, and I'm heading out on weekend trips in Spain with a light photo kit. The Peak Design Everyday Backpack was primarily supposed to provide an alternative to carrying a single-purpose laptop bag + backpack while flying. Does it succeed in that?
Short answer: IMHO yes, it does. The longer answer with more details can be found from here on…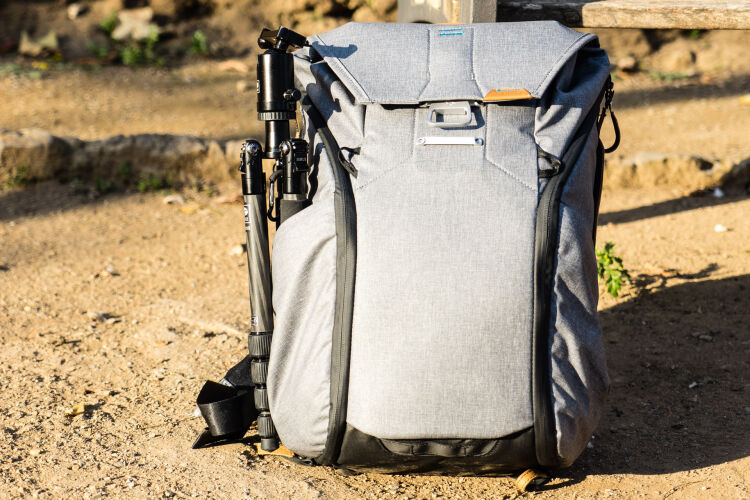 The pack itself
Let's first dive into the details of the pack; it looks quite inconspicuous in light grey, "Ash" as Peak Design calls it, and the fabric is durable, and is reinforced in the bottom. The laptop sleeve is a nice addition and keeps your laptop secure, it doesn't use space in the bag when not in use. The side-zips open up the entire bag, so you can easily grab something when you open the bag that way, and you can quite easily make the zips a bit more secure. The magnetic closure is nice, and closes the pack in a sweet way, yet the pull down and up needed a bit getting used to.
The flexfold dividers are wonderful, providing shelves within your pack when needed. You can loosen the hoop-and-loop fastener on one side and fold the dividers flat when you don't need them, making room for groceries for instance. When folding/flipping up only one side of the dividers, you can create a long section running the length of the bag, for instance to carry a long telephoto lens or a bottle of wine inside your pack, while still having shelves on the other side of the pack. Flexfold dividers #ftw!
Peak Design's Art goes through all details, tips and features of the Everyday Backpack
Inside the side flaps you can also find ample storage space for batteries, filters, pens, external hard drives, power cords or what you can think of. I personally don't use them a lot in my everyday carry, as I carry some pens in the top pocket (accessible from the laptop sleeve opening), yet these pockets are useful for keeping filters and batteries organized and for not being loose items in the main compartment.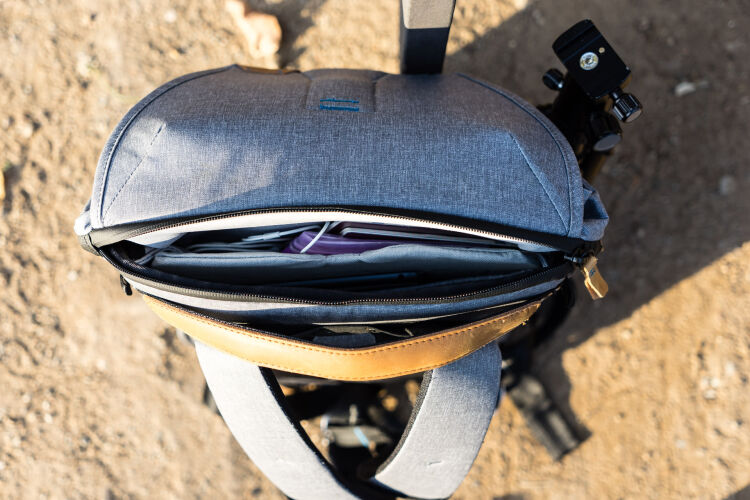 The pack itself does not have a lot of pockets of itself, yet the pockets that it provides are placed thoughtfully and provide enough storage for loose items. The laptop sleeve is for instance divided with a thin yet strong fabric to also store a 10-inch tablet without scratching either device. There is a caveat though, when it contains a somewhat thick laptop and a tablet, it is hard to pull the tablet out; and an iPad with Smart Cover would not slide in, nor out, nicely due to the resistance it causes with the pack's fabrics (tried this myself with an iPad mini + Smart Cover, I personally don't use an iPad with Smart Cover, yet I bought one initially with it; YMMV). When I have the combination with a new 2016 15-inch Apple MacBook Pro, it seems there is a little bit more room and easier to extract the iPad.
One thing that you also don't see on a lot of packs are the side handles, and they are crafted beautifully and comfortable.
The size
This pack comes in two different sizes: 20L or 30L. Actually, according to the designers, it is in regular use more like 12L for the 20L pack, and 22L for the 30L; the mentioned volume is the maximum volume when you can still close the flap on the top-rung latch. With what I pack, the 20L is the perfect size for me when going on short overnight or weekend trips. Most recently my girlfriend and I went on a four-day trip to Barcelona, and I could everything that I wanted to take inside the pack.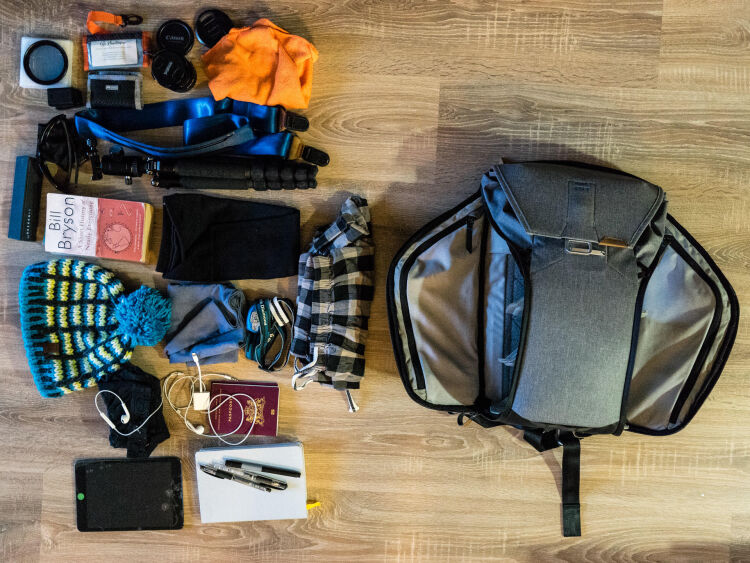 Inside the pack:
Sony A7II camera body + Sony FE 24-70mm f/4 lens
Voigtlander 15mm f/4.5 lens + lens cleaning cloth
Clean underwear + socks
Paperback book
wool beanie
Buff
Headlamp
Laptop/tablet sleeve + top pocket:
Pens
Apple headphones
Apple iPad
iPhone/iPad charging cable
Moment Wide lens
In side pockets:
Camera batteries
Polarizing filter
Card wallet
External carry:
Sirui T-025X tripod
0,5L Water bottle
External carry
It looks from a first glance that there are not a lot of options to keep stuff on the outside of your pack, the only two visible items are the side pockets. Yet there is more functionality hidden away in these pockets. First of all, the pockets themselves are a bit odd; they do carry a waterbottle and similar items with ease, yet when you load them with a tripod (shown here with my Sirui T-025X + C-10X ball head), there is not a lot of support at the top. Other photo packs I own have a short strap at the top to keep a tripod from falling away from your body. While carrying the tripod this way my girlfriend didn't want to walk with me on the side where I was carrying the tripod, afraid of getting hit by the ball head. Later on I discovered one of the hidden features of the pack, some carrying straps. When used you could actually stop the tripod from swinging too much :).
Using these carrying straps, it is also quite easy to carry larger items on the outside of your pack; Peak Design themselves have published a photo carrying a large sleeping bag. You can choose how to use these straps yourselves, and when not in use they are out of the way inside the side pockets. This is also where you can find the hip belt; it is more a stabilizer rather than actually being useful in distributing the load onto your hips. IMHO that is also not the purpose of this pack, it is not a 50L pack for some 20-30 kg of luggage; I do know that photo gear can get heavy quickly, especially with f/2.8 lenses, yet the shoulder straps are comfortable enough to carry some weight.
Wrapping up
Is it expensive? Yes. Does it make me happy? Yes. I do like the bag in ash colour. Unfortunately I haven't been able to compare it to the dark-grey colour, yet I do like light coloured packs more, and this is un inconspicuous colour.
The pack is comfortable to carry, even when stuffed to the brim on a weekend trip. Yes, it is more suited for photographers, yet it works just as fine for people looking for a good pack that is weatherproof, strong, flexible and good looking.
You can buy the pack directly from Peak Design, right here.
P.S. If you've enjoyed this article or found it helpful, please share it, or check out my other articles. I'm on Instagram and Twitter too if you'd like to follow along on my adventures and other writings, or comment on the article.
---