Eddo uses
This post is inspired by Wes Bos's post on what he's using, and many others around the internet.
💻 Hardware
Apple 15-inch MacBook Pro (late 2016 model); back then a beast of a laptop, it is starting to show its age, so might upgrade to a high-spec'd 16-inch not to long from now.
Logitech MX Master wireless mouse; still rocking the first version of this mouse, and loving it. Relying on Logitech's universal receiver for increased reliability, but Bluetooth also works alright.
Roost laptop stand; the best laptop stand when working without an external screen (I'm a single screen guy). Folds to a very slim package, can be easily carried in a backpack, and is strong.
Bose QC-25 noise cancelling headphones; still work as intended, the cushions show their age, and I'm sometimes annoyed with the audio cord. It keeps me too tethered to the desk and can be an obstacle when typing. Would like to upgrade a pair of wireless noise-cancelling headphones, like the Sony WH-1000XM4 or Bose 700 headphones. Maybe, one day…
Apple wireless keyboard (the one powered by two AA batteries); my keyboard at the office
Keychron K2 wireless mechnical keyboard with palm rest; a new addition to my work-from-home setup. Liking it after two weeks of continuous use. If you're really awesome, you can use this referral link to get 10% off.
When I actually have a proper space for a home-office, I'll likely upgrade my small desk to a good-sized sit/stand desk. Not there yet, given our current small Copenhagen apartment.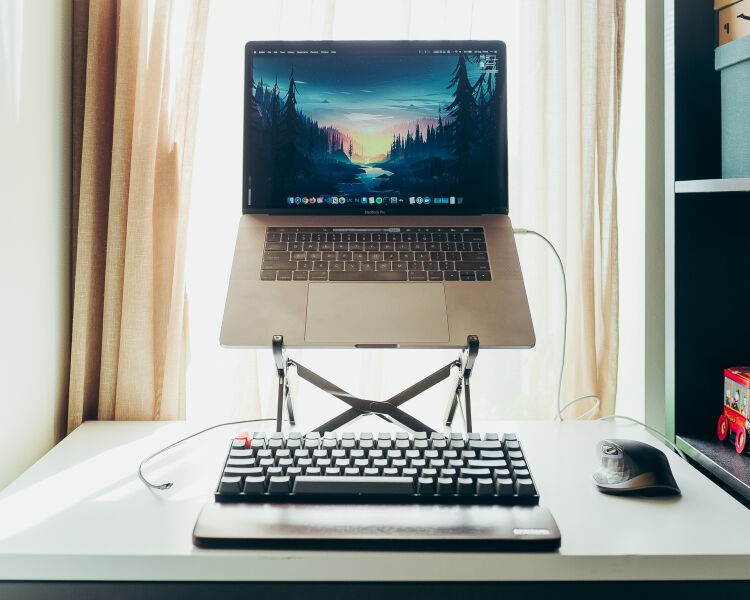 👨🏼‍💻 Software
Visual Studio Code; the programming IDE for (almost) everything.
iTerm 2; replacing macOS's default terminal, and using oh-my-zsh to tweak the looks
Docker and docker-compose; containerizing everything..
npm and nvm; running multiple versions of NodeJS for APIs
Postman for Mac; my current API client of choice, though don't need their cloud-sync feature… I'm considering switching
Jekyll static site generator; what currently feeds this website. I wrote an article some time ago about how I'm maintaining it. I'm tempted to look at Ghost, as it looks very slick 👻.
Apple Notes, Textedit.app and Notion; my second brain … usually starting in Apple Notes or Textedit.app, and storing a refined version in Notion. Grocery shopping lists are also created in Apple Notes.
Instapaper; storing articles from the web that I'd like to read later.
Todoist; keeping track of personal and family to-do's
Adobe Creative Cloud (Lightroom & Photoshop); editing and storing a catalog of photos. I try to keep edits to a minimum (usually only colour grading), though sometimes Photoshop is needed to remove artifacts or more advanced editing.
📷 Photography kit
Fuji X100; the original X100, still going strong. Mostly used for family photos.
Canon EOS 5D mk4; a beast of a camera that does everything. From white water kayaking photo assignments to 1080p video.
Set of lenses to cover some focal lengths, and various uses.

Canon EF 16-35mm f/4 IS
Canon EF 24-70mm f/2.8; the single lens I could travel the world with, and not miss a shot, except that rare condor or orca that is far away.
Canon EF 50mm f/1.8
Canon EF 70-200mm f/2.8 II
Sigma 24mm f/1.4 Art; astrophotography and video

Stack of Lexar compact-flash memory cards, ranging from 64GB to 128GB. Checkout this Instagram post for a bit more detail
Gnarbox 2.0; bought it as backup storage on the road, when I don't want to carry a laptop
Really Right Stuff TVC-24L + BH-40LR; very solid tripod and ball head. I'm in the process of writing up a short review of this and the process of how I considered this to be the tripod for me.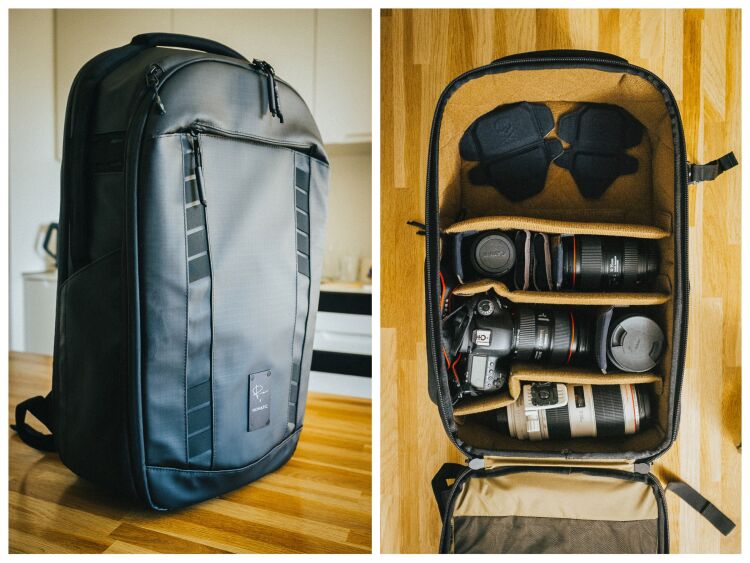 This can also be found on kit.co.
🎒 Other gear
Koga WorldTraveller; my sturdy bicycle that does (almost) everything to keep me living the car-less life.
Peak Design Everyday Backpack 20L; using it to carry my laptop and other things on my back to and from the office, when I'm not working at home.
Peak Design Travel Backpack or the Nomatic x Peter McKinnon Pack; my preferred backpacks for trips and not wanting to lug around too much. One bag travel as inspiration, though I usually don't get away with just one bag.
⚠️ Note: All links on this page are not affiliate links, just direct links to the products or manufacturers.