Camera gear
As this was the first time for me in South America, and I wanted to document our travels, I brought almost my entire photography kit. At first I wanted to also take my Fuji X100 as a backup camera, yet in the end decided not to take it as it took up precious space, and I would be dragging my Sony camera with me anywhere we went.
My idea is to take a minimal kit, as I don't want to carry a lot of gear, nor spend too much time thinking about what I will use. It should all serve a purpose. Bringing the Fuji X100 might be nice as a backup, but I am not a professional photographer that needs a backup, and always have my iPhone anyway with a Moment wide-angle lens. The lens that will be attached to my Sony A7II the most will be the 24-70mm f/4, yet I'd like to take a telephoto zoom lens for the condors in the Colca canyon and for the sea lions in Peru, and a super-wide angle for night photography and the Bolivian salt plains + lagunas.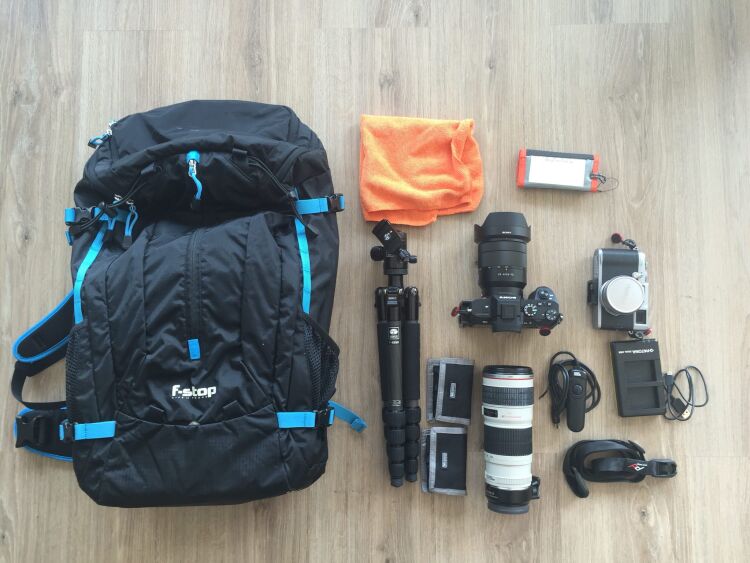 The Sony A7II camera with Sony 24-70mm f/4 lens; These two pieces of gear were the most used photography gear during the trip. This combination was used for about 75% of the photos created during the trip. Just a hint: you don't want too many lenses, as switching lenses does attract dust to the sensor. Mirrorless cameras seem to be more prone to attract dust than DSLRs.
Rocket blower for camera sensor; Keeping dust of the camera sensor; cleaning the camera daily was a good practice, yet there are still quite a few photos with small dust spots as I changed lenses throughout the day.
Canon EF 70-200mm f/4 + Viltrox E-mount adapter; Due to the abundant wildlife that was present during the trip, I used this lens quite a lot. Autofocus wasn't too bad, yet sometimes focusing on the wrong things. Using the in-camera APS-C crop was sometimes useful, and brought the subjects a bit closer; saves time in post processing about my intended crop. Due to the in-body stabilization of the Sony A7II it does allow you to create some steady shots.
Voigtlander 15mm f/4.5 Wide-Heliar III E-mount; this is a specialty lens, and got used a handful of times. I am not too impressed with the sharpness of it for astrophotography, especially in the corners. I am really curious about the Tokina FiRIN 20mm f/2 lens that was announced at Photokina 2016.
Circular polarizer with adapter; Used it on quite some photos, especially during the 4WD tour across the Bolivian altiplano. Yet I do really hate the use of a step-up ring, it is terrible in getting the filter and the ring separated. I will invest in a separate polarizing filter for each of my main lenses.
Sirui T-025X tripod and ball head; Used it only a handful of times, yet it was worth its weight for the night sky shots. I would have preferred a taller tripod, as at times I needed to do some weird balancing act to get it high enough to not get a railing or something in front of the lens, or have it stable enough.
Peak Design Capture clip; used this small gadget continuously on the Inca trail to keep my camera available throughout the day. One improvement would be to add something to shield the camera from rain, either through adding a Peak Design Shell cover or keep the camera inside a holster bag like the Think Tank Digital Holster 10 v2.0, or F-Stop Navin.
Black Diamond head lamp with spare batteries; Always practical to have with you, even though you may not need it. Was useful during the Bolivian altiplano 4WD tour, when I was outside in the dark, and also on the Inca trail as it gets dark quick in the mountains.
Bags and clothing
F-Stop Loka UL with medium shallow ICU; My primary bag; didn't hold up too well for the Inca trail, as comfort in the shoulder straps was gone. I may have overpacked it a bit. Yet on all other occasions I did like it. Sure, a 40L pack is not small to carry, and awkward in restaurants .. yet I didn't mind bringing it with me. You do see other travelers carrying similar sized packs into places. The capacity of the pack on the Inca trail was just enough, I would have preferred to carry my camera on the outside of the pack in a separate snout pouch (such as the F-Stop Navin) and a few extra lenses inside.
TNF Basecamp duffel; A good hold-all bag, that is relatively easy to carry with the backpack straps. It provides enough room for the luggage of two persons. It might be easier to place stuff inside the duffel inside packing cubes.
Quechua down jacket; I do own both an expensive Rab down jacket and a cheap Quechua down jacket, and I decided to bring the Quechua jacket with me. It simply fits me better. This was a really good choice, as it allowed me to stay outside one some cold nights and is quite wind resistant. It can get quite cold at altitude.
Salomon X-Pro 3D Goretex shoes; Just brilliant shoes. Lightweight, waterproof and a fairly sturdy innersole that you can walk and stand on rocks without really hurting your feet. The grip is also brilliant on wet trails on the Inca trail.
Not used
Of course there is also stuff that I did pack and didn't use in the end…
3-stop solid ND filter; didn't shoot any video nor made the time to create long exposures during the day, as we were practically always on the move.
Cable shutter release, used the in-camera two-second shutter delay for night sky photos
Brofish solar panel; charged batteries + powerbank are a better combination for these kinds of trips.
Improvements
When I would walk the Inca trail again, or a similar trek, I'd bring my own sleeping pad. The rented sleeping pad was way too large and heavy compared with what I own myself. Also I would like to carry the gear in a 40+L pack, with a separate, lightly padded holster bag for my camera.
Some additional SD cards; as I was unsure about whether I had copied over all photos from a previous shoot that were on a 32GB card, I had to use all the other cards in the end of the trip. Brought about the following stack of 8-64GB SDHC cards: 5x 8GB + 2x 16GB + 2x 32GB = 136GB. Tip: always take more memory cards with you than you think you need. According to Alik Griffin the Sony A7II has an in-camera maximum write speed of 33MBps, so there are no camera advantages for using a faster card, yet a faster card allows for improved performance when ingesting on my Apple MacBook Pro.
What I actually didn't miss during the trip, yet discovered during post processing the photos, I could have benefited from a 2-stop soft edge graduated ND filter and filter holder.
Summarizing; I might bring different camera gear on a future trip, yet as try to keep my camera kit lightweight and within bounds, there are not a lot of improvements to be made depending on what focal lengths I want to cover. And bring enough memory cards with you on any trip :)
P.S. If you've enjoyed this article or found it helpful, please share it, or check out my other articles. I'm on Instagram and Twitter too if you'd like to follow along on my adventures and other writings, or comment on the article.
---