A few months ago I was asked by a friend of mine whether I'd like to participate as photographer in a week of white water kayaking in the French Alps for young adults that are impacted by cancer, in order to create promotional images as well as images for the participants themselves. As my girlfriend and I were about to become parents I was a bit hesitant at first, yet it sounded like a really cool experience. We had actually planned to visit our family around that time, so I did say "yes" to the opportunity. This way my girlfriend wouldn't be left alone in Copenhagen, and she would have some support from family in the time I was in France for the Powder Days assignment.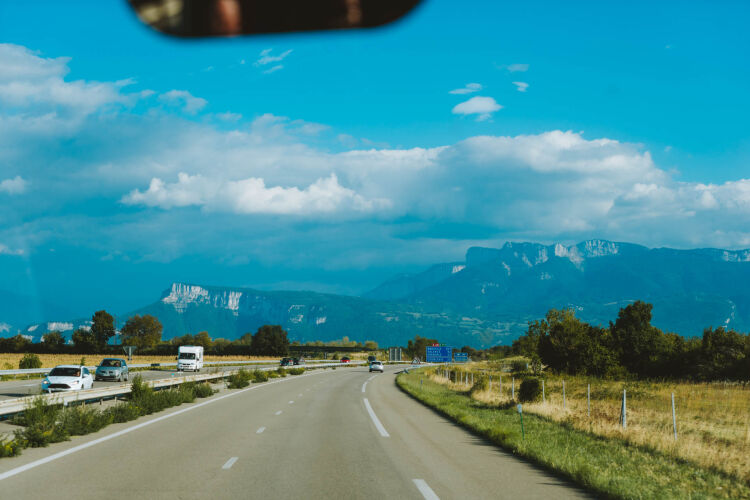 The travel logistics demanded every one to be present in Utrecht (NL) before 5am, so that we would be in Chateauroux les Alpes (France) before midnight. That's about 17 hours on a bus 🚌. It was good that we had a bus with capacity for 50 persons, and less then 20 people on board. Multiple seats for every one.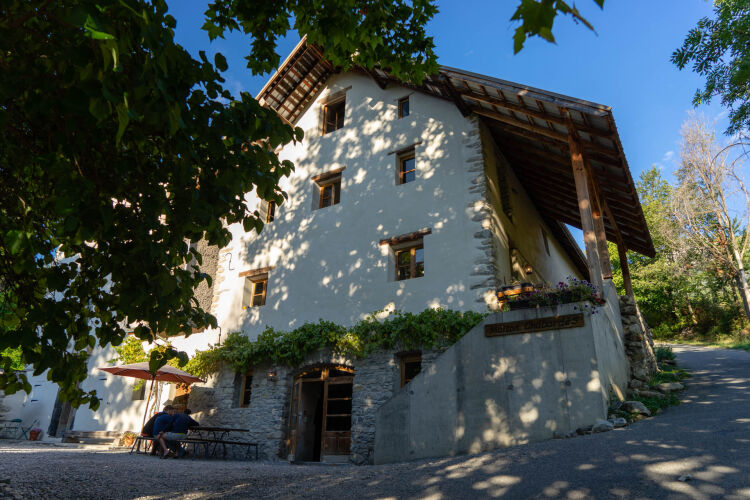 In France we stayed at a brilliant accommodation that was provided by Cimarron, and we had the entire house for ourselves. They also provided the actual white water kayaking activities during the week, including transport to and from the river.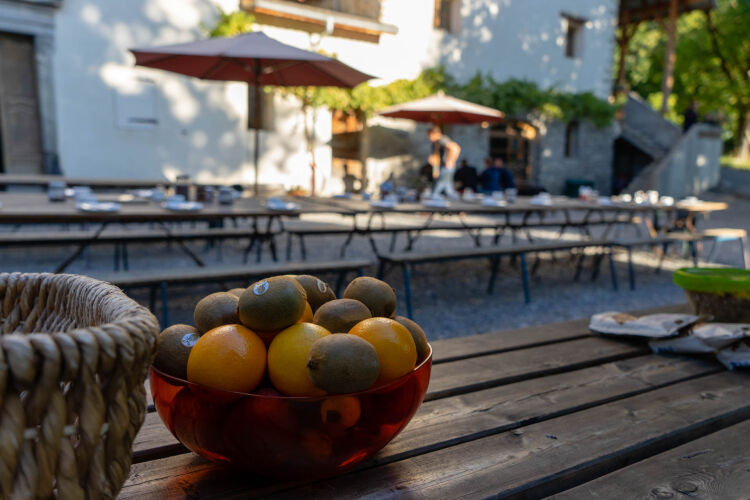 Every day we enjoyed a good breakfast with bread fresh from a local bakery, fresh coffee or tea, and various other breakfast options. Delicious.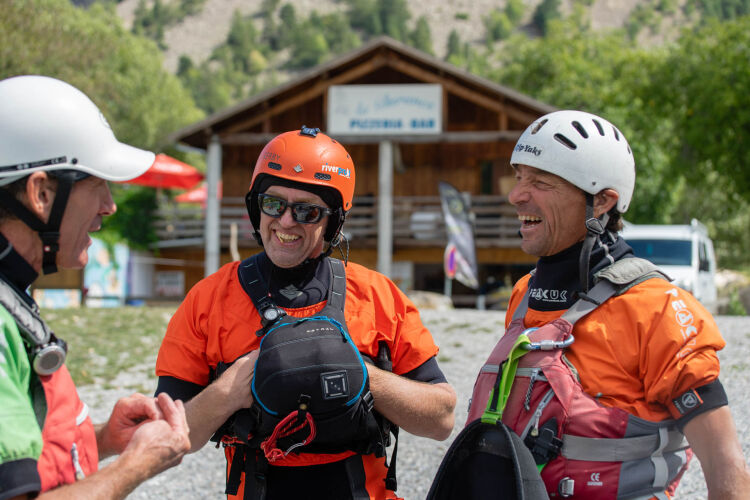 Besides it being a special event for the participants, it was also a special event in the way that these three instructors were working together. Each person has a long experience in leading white water kayaking trips, and the three of them together is somewhat unique. Each instructor runs their own company; from left to right: Cimarron, Riverproof, and Stip-Yaks.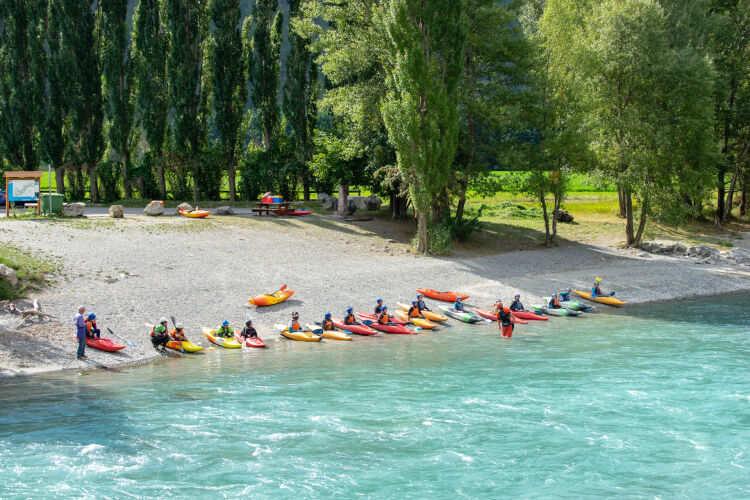 Almost all of the participants hadn't been kayaking on moving water before, or even sat in a kayak before. In their approach, all instructors made the participants feel at ease on the water, by progressively challenging them more, all the while being there proverbially holding their hand. This photo was one of the first days on actual moving water, with the group ready to launch into the Durance. Some also enjoyed one or two runs on the slalom course that is upstream of this spot.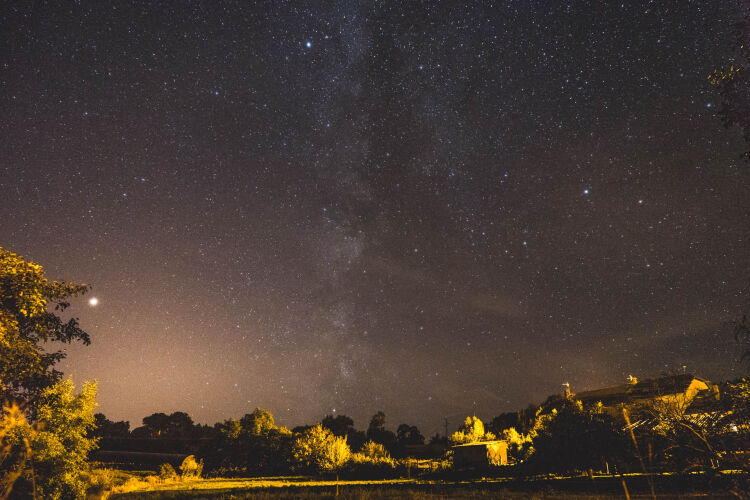 Due to the location we were, I took some time during a few nights to create long exposures of the night sky. The lack of light pollution allowed me to get a good glimpse of the stars and even the milky way with my own eyes. Somehow the image I captured doesn't do real justice to the experience I had.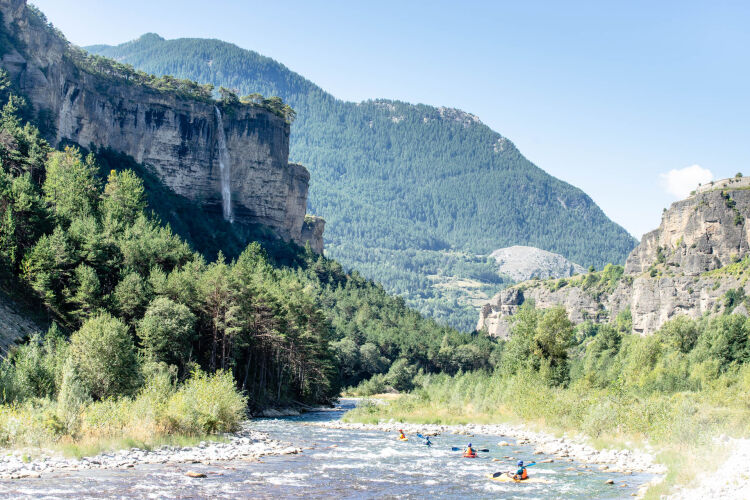 One of the gems of the region would be the river Guil, where we paddled the lower-section. There wasn't that much water, though it was challenging enough for the participants. Some even missed the waterfall that is in frame on the left, as they were busy trying to stay upright and going straight. A shame, really, as that was one of my highlights.
It was a week that I'll probably not forget, and that I enjoyed. It was good to hear the stories of the participants and what they are sometimes struggling with, that each can relate to it and can provide some helpful insight or support for the other. And as a photographer it was an honour to be documenting the experiences and creating strong images for Powder Days.
Gear
All photos during this trip were created with my Sony Alpha a7 II, mostly coupled with a Canon EF 70-200mm f/4L USM lens via a Viltrox EF-E-mount adapter. At other times I had the Sony FE 24-70mm f/4 lens mounted. The telephoto lens was a good field of view on or near the water, allowing me to get some close ups of the participants, as well as some more immersive landscapes showing kayakers on a river. Near white water you don't always have the option to get very close to the kayaker, so a telephoto is a logical choice.
Initially I wasn't 100% sure whether the lens and body combinations would hold up for this trip, but as this is the only gear I currently own, I had to put up with it. After reviewing my images, and my experiences using it, I can say that it surprises me in a positive way. The AF performance was reasonable, and in a sequence it missed only a few shots. Would I choose a native telephoto lens next time? Yes, as the Canon with Viltrox adapter doesn't allow 3D tracking autofocus on the A7II. The camera also wasn't that bad with regard to batteries, though nowhere near what a DSLR might be able to do. I depleted at least two full batteries every day, and I did notice that my original Sony batteries do hold up better than the third-party Miquu ones that I have. That last observation is not scientifically proven, as usage of my camera changed from day to day.
Silent shooting during the campfires would've been a really good thing to have, less disturbance to the participants. For those situations, a large aperture lens like a 50mm f/1.4 or 85mm f/1.8 would also be useful, allowing me to use a lower ISO or faster shutter speeds.
Another plus for mirrorless is the fact that you can show photos you've just taken within the electronic viewfinder (EVF), when the sun is just too harsh to see the larger LCD screen. For my workflow I've turned off the auto-play feature of showing images after they've been captured. This allows me to more quickly continue capturing more images when needed.
One day we had some rain while on the river, and I still had to create some photos. In that situation I really didn't trust the camera to stay dry, though apparently it held itself while getting rained upon. Would I trust the camera in such weather? Probably not, I would much rather go for a rugged, weather-sealed DSLR with a weather-sealed lens. Nevertheless, the Sony system isn't bad and delivered good results that the client was happy with. Isn't that what it is all about in the end?!
P.S. If you've enjoyed this article or found it helpful, please share it, or check out my other articles. I'm on Instagram and Twitter too if you'd like to follow along on my adventures and other writings, or comment on the article.
---