About three years ago I bought a Sony Alpha A7 II mirrorless camera body, as I had enjoyed using a Fujifilm FinePix X100 alongside an Canon EOS 20D DSLR. Mirrorless cameras promised a whole lot, and I thought it to be a good time to dive into it. With professional photographers like Chris Burkard and Brian Smith using mirrorless cameras, I assumed that it would also fit me. Short version of the story: I was wrong.
The Sony camera body was about 70% of the weight of a Canon 5D mk2/3 DSLR body, which appealed to me. Though, the heft of the weight doesn't have to be in the body, unless you're using a Canon EOS 1D series camera or Nikon D5, but in the lens. Preparing for a photography assignment last summer, I asked myself the question whether I wanted to invest in native Sony FE lenses, or not. I decided to postpone that decision until after that specific assignment, and make up my mind based on the results.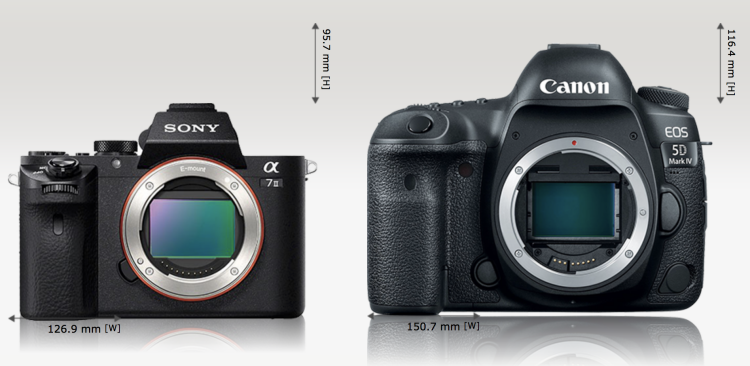 Size comparison of the Sony A7II camera and the Canon EOS 5D mk IV (camerasize.com)
So, last week I bit the bullet and traded in my Sony A7II with two lenses for a Canon EOS 5D mk IV. There were multiple reasons why I decided to move back to Canon, which I'll explain here.
Enjoying the use
Simply put, the menu system of the Sony mirrorless cameras is not fun to work with. Maybe the implementation of a touch screen, like in their newer cameras, could improve things. In general I don't like the menu, and the menu of the Sony feels complicated and difficult to fathom where settings are. The Canon's menu is easy to navigate, and settings are in logical places. The 5D4's menu is quite a step up from the 20D that I owned, though I quickly found my way.
Sure, when I first felt the weight of the Canon 5D4 with a lens attached again it was quite a shock. The Canon feels like a brick, though put a large aperture lens on a Sony mirrorless camera, and there isn't that much difference (I tried).
Speed
Turning on the Sony camera takes about a second or two, where with a DSLR it is ready for use almost instantaneous after flipping the on/off switch. I missed that feature after I switched to the mirrorless camera, more than I initially anticipated.
The autofocus was also a reason for me to switch back again, even though you really can't compare a pro-DSLR with a prosumer mirrorless. The Canon has way more configuration options for the autofocus than the Sony A7II had. The Sony had pretty good autofocus for a few shots in a burst, though would surely miss focus after a few photos in a burst. Consistently. I haven't tested it yet with the Canon 5D4, though I'd expect it not to misbehave in that way.
Weather sealing
This may not be important to a whole lot of people, and I haven't had any real issues with it so far. However, I do like to shoot in adverse weather conditions, and not worry about my camera getting a bit wet. I didn't trust the Sony really to be safe enough in rain, and it is proven that the Sony A7R mk III doesn't fair well (link).
Battery life
Even though the battery life of the Sony A7II is decent, I did need to switch batteries more than I expected. Newer models have a larger capacity battery, which is about twice the capacity of the Sony A7II's battery, though it doesn't reach the 900-1200 shots per battery of a DSLR. And by minimizing the use of the screen on a DSLR, you can bring that number even higher.
Conclusion
I'd rather bring the weight of my entire camera kit down by only having a few lenses
Is the Sony A7II, or any of the other models in the A7 lineup, a bad camera? No, absolutely not. I did like it to keep using it for a few years, yet not enough. Given the price of the Sony A7III (±EUR 2000) it isn't a bad buy. Would I suggest all of you buy a DSLR right now? No, mirrorless cameras do seem to be the future and are really good. I'll definitely keep using the Fuji X100, as it is so small and fun to use. The big DSLR has another use when I'm more intentional and 'require' other features, focal lengths or more advanced exposure settings.
P.S. If you've enjoyed this article or found it helpful, please share it, or check out my other articles. I'm on Instagram and Twitter too if you'd like to follow along on my adventures and other writings, or comment on the article.
---