I don't usually review books, nor do I wish this blog to become filled with reviews, though a write-up of my thoughts on Paul Jarvis' latest book "Company of one" was in order.
The book did resonate with me quite a bit, and I must admit that its ideas aren't entirely new, though are definitely worth writing about 🙌🏻. The essence of the book is mentioned in the first chapter:
When businesses require endless growth to turn into a profit, it can be difficult to keep up with increasingly higher targets. Whereas, if a business turns a good profit at its current size, then growth can be a choice, made when it makes sense to succeed, and not a requirement for success.
Growth is a choice, and not a requirement for success. Let that sink in.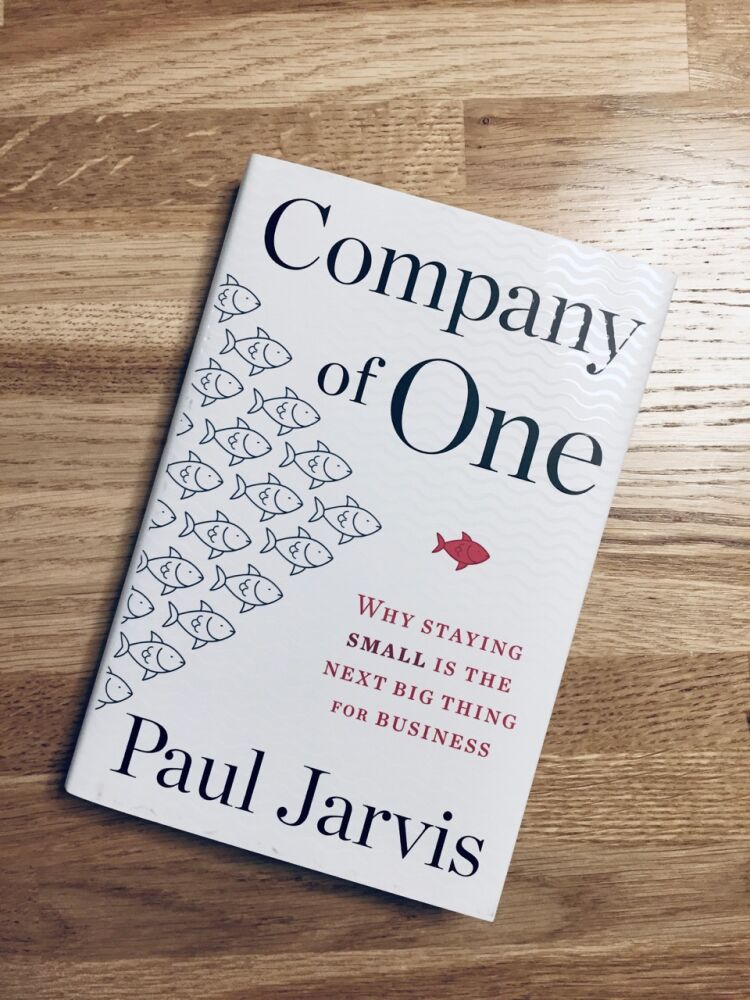 Throughout the book various examples of entrepeneurs that have taken it to heart make their appearance, and their stories are shared. This is intertwined with Jarvis' own story. As a reader you learn some lessons from almost each example, which at the end of each chapter are distilled in a few bullet points to think about.
It is nice to see that Jarvis mentions that you don't have to be an independent entrepeneur, but that you can be a "company of one" within a larger company. It is about the responsibilities that you take up, and how much autonomy you have over your own work. This is similar to Daniel Pink's framework for motivation: autonomy, purpose and mastery.
Why this resonates with me, is that I've seen this example for the better part of my life. My father is a solo freelancer helping out cheese factories setting up new products, or fixing problems in their production lines. His approach doesn't scale, and he doesn't need to, enjoying what you do and earning enough to sustain your lifestyle is enough.
Later on in the book, Jarvis mentions author James Clear regarding working backwards from what you want to achieve:
People tend to start with a business model and then become unhappy when their days are filled with tasks they don't enjoy. Instead of thinking, What product can I create? or What service can I offer?, James [Clear] believes that we should first think: What type of life do I want? and How do I want to spend my days? Then you can work backwards from there into a business model that allows you to create scalable systems to deliver your product to your audience.
This type of deconstructing is on par with that of Tim Ferriss' "Four hour work week", designing your life and/or business based on the results that you'd like to achieve. I believe this to be a good approach, editing your life based on your needs and wishes.
Overall, I can recommend this book for anyone that is thinking that bigger is always better, and that businesses always need to scale. There is an alternative view!
P.S. If you've enjoyed this article or found it helpful, please share it, or check out my other articles. I'm on Instagram and Twitter too if you'd like to follow along on my adventures and other writings, or comment on the article.
---