It seems I have a problem with packs, especially backpacks that can carry my things comfortably. I do own and have owned quite some backpacks, each with a specific use in mind. Will I carry photography gear, a laptop, or everything but the kitchen sink? I've got a bag for it. For my everyday carry I use the Peak Design Everyday Backpack 20L, to transport my 15-inch Apple MacBook Pro, a pair of headphones, a camera and Baron Fig notebook. It fits enough for every day carry, is relatively small, and is weatherproof. I wrote a review about it early 2017. Though sometimes I wish that it was bigger, as it is only 12L at its smallest. This is where a travel backpack comes in.
Sure, I do own an F-Stop Loka UL, though it isn't that sturdy when not using packing cubes or F-Stop's ICUs, and not really suitable to carry a laptop safely. Therefore I upgraded to a Peak Design Travel Backpack 45L, which is sturdy by itself, carries a laptop safely (against your back), and is flexible in using with or without a camera cube unlike a lot of other dedicated photography backpacks. Flexibility and multi-use of gear is something I value a lot, as long as it is done good.
The tl;dr version is that I do really like Peak Design's Travel Backpack and the various packing tools.👍🏻
Specification comparison
I've been looking for a good travel backpack for quite a while, and had narrowed down my search to a few candidates just before Peak Design launched a Kickstarter campaign for this pack. I was to go either for the Goruck GR2 40L, or the Minaal Carry-On 2.0. For the price the Minaal appealed to me the most, and I do like the ruggedness of the Goruck. I believe that the Peak Design is a sweet mix of the two.
So how do they stack up against each other based on my own criteria?

As you can see, the Peak Design is the heaviest of the bags, a full kilo more than the Minaal. This seems to be due to the materials used, and for that it does feel good, but more on that later. Each of the packs I selected are capable of fitting a 15-inch MacBook Pro, as that is my workstation of choice.
I'd also like a bag to be weatherproof on its own, not needing to pull out a rain cover when I'm caught in a sudden rain shower ☔️. Having outside pockets to carry a water bottle or a tripod are bonus points for a pack. With regard to price, the Peak Design is in the same price range as the other bags. A good travel pack isn't cheap 💵.
The pack itself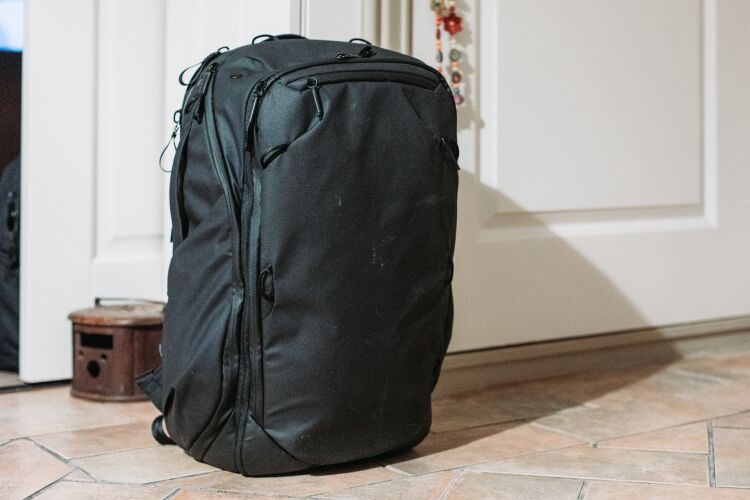 How do you measure a bag? By how comfortable it is to carry, the weight, how much it holds, how it looks, or the materials used? Essentially by all these points and more.
As mentioned, the Peak Design is a heavy pack, weighing 2,64kg. If you were to fly with it, this means that you can only hold 7,36kg of luggage to stay within the 10kg limit set by most airlines (they're not always weighing backpacks). This isn't an issue when going by other means of transport, such as trains or long-distance buses, though you don't want to carry too much on your back. How much you are willing to carry is personal, yet I have the confidence that you can carry a lot of weight in this pack. Note that weight will be put on the backpanel zips, though these are designed to be strong enough to carry a professional photo kit.
The pack is quite comfortable to carry with a not too lightweight camera kit plus laptop and some clothes. The shoulder straps are padded well enough, and don't cut into my skin even when carrying the bag over just one layer of clothing. I like the feature to stash the shoulder straps and hipbelt behind the backpanel, which then creates a very clean looking pack without loose straps.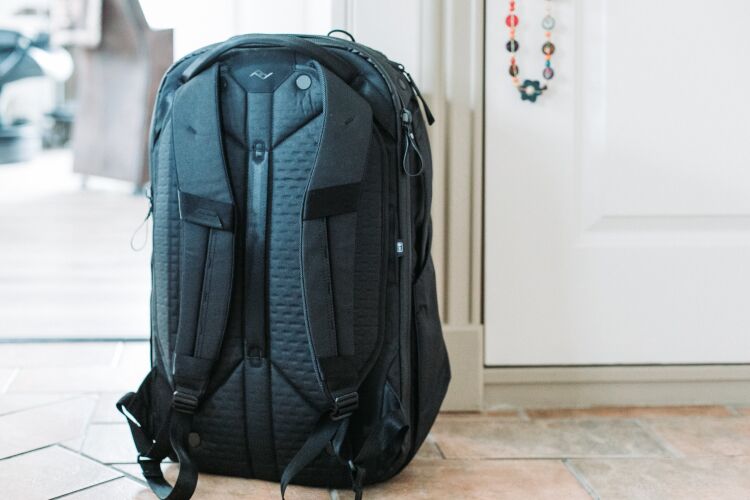 The material used for the bag looks quite similar to the one used in the Everyday Backpack, and it feels rugged and weather resistant on its own. It feels like a pack that will last the rigours of travel for quite some years. Peak Design did add a rainfly with the Kickstarter campaign, yet I don't think I need it outside of a deluge. And yes, Peak Design mentions that the outside shell of the pack is made from recycled plastics ♻. How sweet!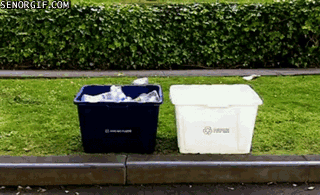 The size & pockets
It is a travel bag designed for carry-on dimensions, and if you don't load it to its maximum capacity, it will actually meet European carry-on restrictions for most airlines. It isn't a bag that I would use for every day use, when I'm only taking a laptop and a pair of headphones. For travel purposes this pack meets my expectations. I can carry a camera kit with a laptop, and have room for accessories and/or additional clothing layers. The compartment at the front of the pack is a nice place to stash a rain jacket when not in use, as well as other loose items.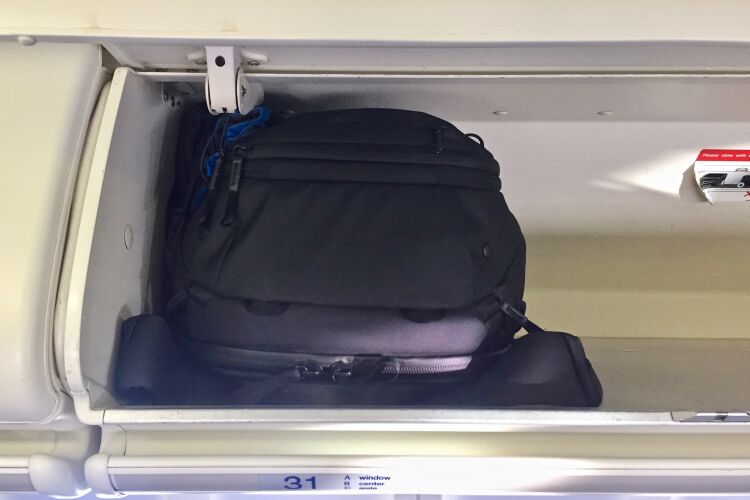 The Travel Backpack inside an overhead compartment of a KLM/Air France Boeing 737-800.
This front compartment also has a few pockets inside it, to store various items. The nice thing about these pockets is that you can access them from the front compartment, and also from within the large main compartment, that opens from the back.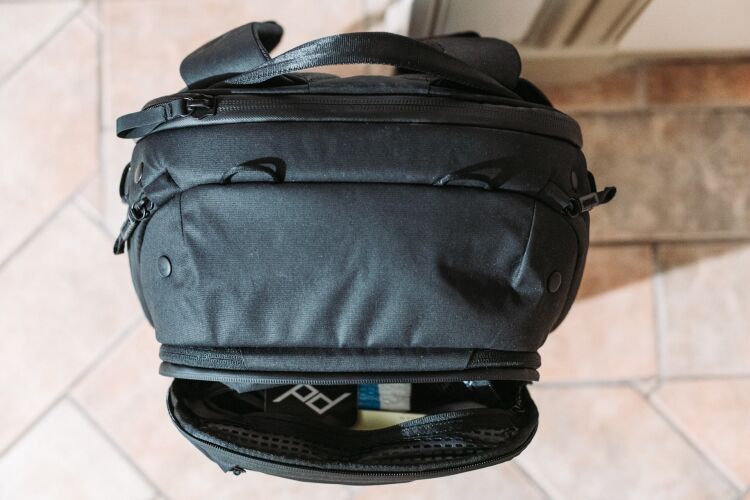 Packing tools
You can order the pack on its own, though I got the pack with a bunch of additional goodies (the "packing tools"), which in my eyes do bring it to a next level. The packing tools are specifically made to fit in this bag, and in the future will fit in other bags that Peak Design is still to release. Packing cubes made by other manufacturers might fit in this bag, though you'd have to do your own research 🧐.
Camera cube
The Peak Design medium camera cube is about the same size as an F-Stop medium ICU (internal camera unit), though a lot deeper as it was designed to fit a gripped DSLR. This size of insert is a good fit for the amount of photography gear I own, or want to carry. It fits my DSLR, a few lenses, a battery charger and some filters. It even fits the DSLR with a mounted 70-200mm 🙌🏻. My feeling is that it actually is only meant for cameras and lenses, and that accessories should be places in one of the additional pouches.
Unfortunately, there is no standard way to fasten the Peak Design cube inside the F-Stop Loka UL, nor the F-Stop ICU inside the Peak Design Travel Backpack. I might have to customise the F-Stop ICU to carry it securely in the Peak Design backpack, as I like their ICU a bit more. It is shallower, and thus for me easier to get my gear out of. Either of the camera cubes are well padded, and have internal dividers that are nice to set up. For me it is one time thing to place the dividers in the camera cube.
Peak Design has also made a nice video showing the details of the various camera cubes:
Tech & wash pouches
Loving it! The tech pouch is a small-ish pouch that holds my loose cables, USB chargers, some pens, and other smaller items (yes, dongles). It is well made, and the fabric apparently can also withstand rain. The pouch can stand upright on its own, so content stays inside instead of falling out.
I've been using it as well as a daily carry in my Everyday Backpack to keep stuff I need frequently organized, and it allows me to switch bags easily and not forget something. It does take up quite a bit of space in my 20L Everyday Backpack, yet the benefits outweigh the drawbacks.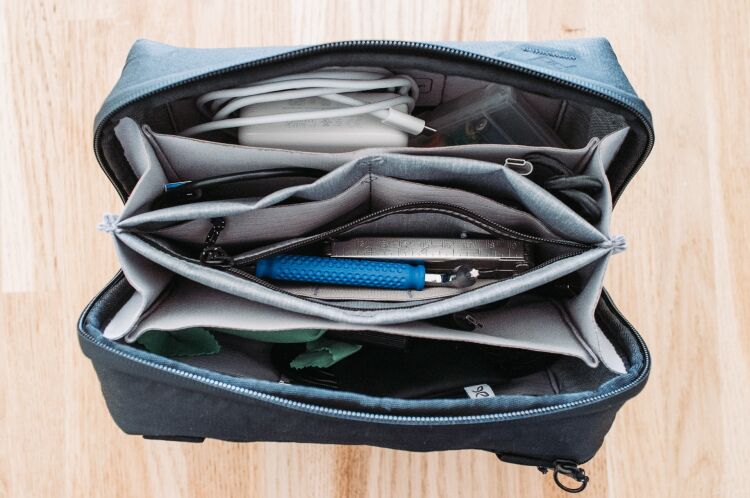 What I keep inside it:
Samsung T3 SSD + USB-C cable
Some loose SD and CF memory cards
iPhone/iPad charging cable + charger
Pens and a marker
Some business cards that are actually outdated
Spare batteries for noise cancelling headphones + bluetooth keyboard
Charging cable wireless mouse
Memory card reader + USB-C cable
USB-C <-> USB-A dongles
The wash pouch is similar to the tech pouch, though for your personal toiletry items. As both pouches are very similar in size, though not identical, I've decided to choose different colours for each in order to distinguish them.
Packing cube
I'll be brief about it; it is lightweight, the zippers work nicely, and it can fit a whole lot of clothing (enough for two weeks of travel). I like that it was designed to separate dirty laundry from your clean clothes, which is something I haven't yet seen on other packing cubes 🙌🏻.
External carry
Like Peak Design's Everyday Backpack, the Travel Backpack also has small straps included. These can be lashed onto a lot of places on the pack, and are completely detachable. This gives you quite a bit of flexibility to carry stuff on the outside of the pack.
When I was using the Everyday Backpack with a small tripod, I'd have to lash the tripod to the top of the bag, otherwise the ballhead was hitting the people around me. This is definitely not the case with the Travel Backpack. The deeper outside pockets keep the tripod better secured. It is also nice to see that the outside pockets swallow a 1L bottle with ease. The bag does become quite wide with a tripod and 1L bottle in the outside pockets, so it isn't that fun in narrow train isles that way.
Wrapping up
For me, this 45L Travel backpack hits a sweet spot. I like the design, and it is very practical. It can be used for multiple use cases, not only travel, nor only as a photography pack, and it can carry my laptop safely. Would it be nicer if it was a bit lighter? Sure, though then I suspect that you'd lose some ruggedness of the pack. And it also works as an every day pack if you want to.
Update (per 2019-10-25)
Since I wrote this review, I've used the pack in a lot more cases. I've used it on a photography assignment, loaded with gear, and in every day use with just a laptop and a camera.
I do want to like the bag, and I guess I do, though it isn't without its drawbacks. When fully loaded with a full frame DSLR setup 1 the pack isn't that comfortable to carry. This could be improved with a bit more padding on the straps. I know I wrote earlier that it was quite comfortable, though I've changed my mind a bit after using it more.
Another drawback for me is how it carries a large tripod, a Really Right Stuff TVC-24L. The external side pockets don't extend to the bottom of the pack as they're on the flaps for side access. And they taper as well to a single point. So a tripod automatically sits a bit higher, and I can't nicely fit two tripod legs in there. The second point for tall tripods is securing the top, as there are only a few latch points. This makes it a bit tricky to secure it well. Quite a few other camera backpacks seems to have a better solution for it. I do have to say this is only a problem for larger tripods, my small Sirui T-025X fits really well and securely in the external side pocket.
The last gripe I have with this otherwise nice pack is to have a quick access top pocket, besides the phone/passport pocket on the front or the larger one inside the front-compartment. That is a feature I really like on my F-Stop Loka (UL). Getting something from the main compartment requires me to lay the bag flat, instead of just opening the top of the bag.
Did I mention that I'm always looking for improvements?
My full frame DSLR setup consists of: (1) Canon EOS 5D mk4, (2) Canon EF 16-35mm f/4L IS USM, (3) Sigma 24mm f/1.4 Art, (4) Canon EF 50mm f/1.4 USM, (5) Canon EF 70-200mm f/2.8L IS USM II, (6) a 15-inch Apple MacBook Pro, and (7) some accessories such as memory cards, filters and batteries. The pack weighs about 12-14kg when fully loaded with this stuff. ↩
P.S. If you've enjoyed this article or found it helpful, please share it, or check out my other articles. I'm on Instagram and Twitter too if you'd like to follow along on my adventures and other writings, or comment on the article.
---