In case you're following me on Twitter, you've probably noticed that I'm a supporter of distributed/remote working. Though so far my experience in working in that way have been limited, and in different offices of my employer or a day a week working from home. A few weeks ago I spent a week working remote, I was working from a kitchen table at my girlfriend's parents' house while we were visiting the Netherlands for some time. In this article I'd like to share my experience, and why I'd do it again.
Let's start with a small bit of a diary entry that I wrote:
I've been working remote these last day and a half when I'm writing this, and I've been enjoying it quite well. Yesterday I was locked away in a home office, and today I'm working from the kitchen table on my laptop. It was a bit cold in the home office, yet there were a lot of people in the living room which stopped me from doing any work there. Today the kitchen table provides a good place to work from, and I like it being close to my daughter that is playing nearby with her grandfather.
This sort of sums up my experience, and why I sort of love it; being close to my own family, while working in an effective way. Effectivity is a crux, and does require self-discipline or some form of accountability. Slacking of is indeed easier as no-one is watching over your shoulder whether you're actually doing any work, though that isn't working remote.
Spending time outside
I've found that in the first three days, I actually didn't set a single foot outside the door. This wasn't very intentional, more the effect of not needing to step outside for groceries. I do like my regular routine of commuting on a bicycle for about 20 minutes to get to the office, which is a forced way to mentally switch between work and home and getting outside on a daily basis.
My girlfriend already mentioned that if I were to go full remote, that we should get a dog 🐕 that I'd have to take out on walks a few times a day. This might also be effective, as I know I get some new perspectives on any project that I'm working on while walking outside🚶‍ or simply doing something else.
The work place itself
I have to say that my employer, Ageras, takes good care of employees with regard to facilities. We have a standing desk, a good chair, a large monitor and good coffee at the office. I do value those, especially having good coffee (self-proclaimed coffee junky ☕️). It was therefore a bit of an adjustment when I worked again at a kitchen table, and just my 15-inch laptop screen. After getting used to it, I didn't feel restricted by it. It was a bit more switching between windows when debugging code, but it sorted itself out.
I know that I'd like a good place to work, and if I'd had the space I'd setup a nice home 'office' with a large monitor (this could also be a single desk in a corner of a room). Sure, I would miss the Nespresso machine at the office, and the standing desk, though I can sort that out should I want to work remote/distributed more while staying at home. I'd probably then also drink less coffee, as making coffee is an art.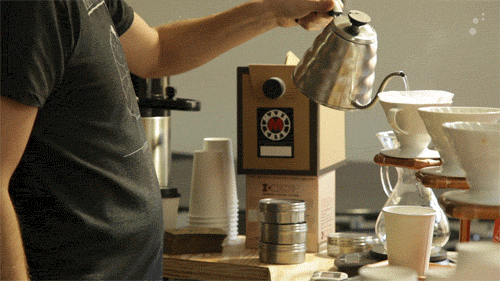 Some other observations
Good communication in writing is key, and asking for confirmation whether you've understood it correct and that expectations are clear;
A good internet connection, and less dependency on a remote database for local development are good things;
Being interrupted by your colleagues via Slack is more present, in an office setting it doesn't feel like an interruption when you'd like to ask something;
I haven't used my Roost laptop stand this week, and not really sitting in an ergonomic position. I did move around the house at times and worked from the sofa.
Wrapping up
As mentioned at the start, I'd do it again. It feels natural to work that way for me, and having my family around felt good like in this Zen Pencils comic. Sure, there are some perks of working in a good office, and our team spirit at the office is really good. I will be working from somewhere else in the future, and pondering that a next job might even be fully 'remote'.
P.S. If you've enjoyed this article or found it helpful, please share it, or check out my other articles. I'm on Instagram and Twitter too if you'd like to follow along on my adventures and other writings, or comment on the article.
---