Over the years, I've been going through quite some different carrying solutions for my gear. At the time, each piece had a function yet also had some flaws. As practically any photographer or gear head, I'm always on the look out for improvements. I'd say that I've reached a point where I have too many bags to carry stuff in. I thought it would make a nice article to show my reasons for specific bags.
As Chase Reeves put's it:
There are no perfect bags, only informed bag purchasers.
If you're not well informed, you'll be back on the hunt for a better option.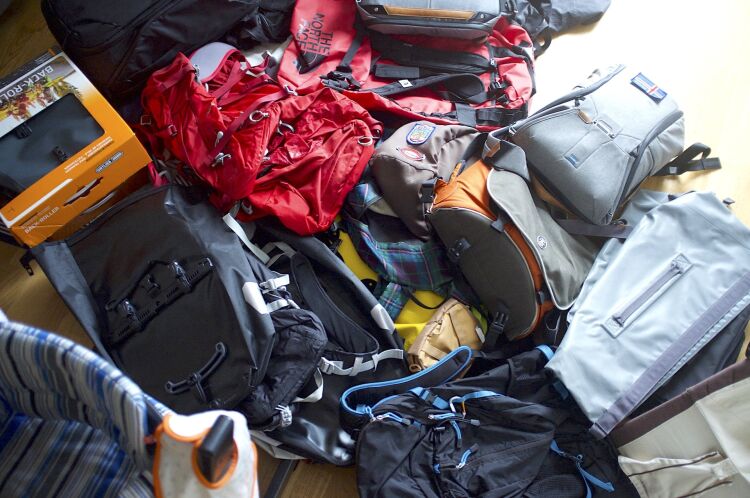 Let's first dive into the various situations I'm in where I need a bag to carry things, and what things I then need to carry.
Everyday carry
My regular profession is maintaining and developing a web application for Ageras, and I commute to work on a bicycle (yes, also when it rains :umbrella:). I carry my trusty 15-inch Apple MacBook Pro with me, a Baron Fig notebook, and usually a camera. Sometimes I bring more stuff with me, but this is the foundation. I don't like to fiddle around with a raincover when I'm caught in a sudden downpour, so that bag itself should be able to withstand rain for about 15-20 minutes (i.e. my normal commute time). So far I'm quite happy with the Peak Design Everyday Backpack 20L. It fits enough for every day carry, is relatively small, and is weatherproof. Though sometimes I wish that it was bigger, as it is only 12L at its smallest. I wrote a review about it early 2017.
I'd like to be able to have a day pack that can carry a bit more, and is more suited for multi-use. I've been considering the Atlas Athlete pack now for a while, as it can carry a Canon 5D with a mounted 70-200mm, as well as being relatively small. The one thing I think is a bit less nice is how well it protects a 15-inch laptop. Maybe should've opted for the 30L Peak Design Everyday Backpack.
Travel
Every now and then I'd like to travel, and my preference is that all should be able to fit into one carry-on backpack. In the past I used the F-Stop Loka UL to carry stuff when traveling, though it isn't that sturdy when not using packing cubes or F-Stop's ICUs, and not really suitable to carry a laptop safely. Therefore I upgraded to a Peak Design Travel Backpack 45L, which is sturdy by itself, carries a laptop safely, and is flexible in using with or without a camera cube unlike a lot of other dedicated photography backpacks. Flexibility and multi-use of gear is something I value a lot, as long as it is done good.
I did back the Nomatic x Peter McKinnon camera pack on Kickstarter late 2019, as I dislike how the PD 45L backpack handles carrying loose items, you do really need the camera cubes etc. to keep stuff organized. It is something I value in the Peak Design Everyday Backpack as well, having the dividers in place.
I do still own and like the Loka UL, as it is a nice camera bag with room for additional stuff besides camera gear. The medium shallow ICU that I bought together with it is a good fit for my amount of photography gear. It fits my DSLR, a few lenses, a battery charger and some filters. It even fits the DSLR with a mounted 70-200mm 🙌🏻. The Peak Design medium camera cube is about the same size, though a lot deeper as it was designed to fit a gripped DSLR. Unfortunately, there is no standard way to fasten the Peak Design cube inside the F-Stop Loka UL, nor the F-Stop ICU inside the Peak Design Travel Backpack. I might have to customise the F-Stop ICU to carry it securely in the Peak Design backpack, as I like their ICU a bit more.
When I'm going on a kayaking trip, I do bring an additional The North Face Basecamp duffel with me, containing camping gear and paddling gear. When flying this duffel is checked in.
Hikes that involve camping
I bought an Osprey Variant 52 backpack with the purpose of using it on the Fjällräven Classic in 2013. On that trek it fit everything that I wanted to take with me, such as a small tent, a sleeping bag, self-inflating mattress, clothes and my food. It has a very nice hipbelt that transfers the load from my shoulder to my hips, and the shoulder straps are very comfortable.
During that hike I carried my DSLR with a single lens in a pouch attached to a shoulderbelt, and secured to my backpack's hipbelt. I don't like to travel with a lot of lenses for my camera anyway, and that trip I could make do with a single lens. On a few other trips I placed one or two additional lenses in their pouches within the larger pack, so that I could access them quite quickly if needed (only need to set down the pack, and open it).
White water kayaking
As mentioned above, I take a large The North Face Basecamp duffel, to hold all my stuff. It has been reliable, and pretty resistant against rain, and easily recognizable on an airport conveyor belt (in case I have to fly). In the summer of 2018 for a photo assignment where I wanted to take my camera with me on the water, I did carry it in a padded, waterproof Aquapac roll-top pouch. It fit my Sony A7II with a 70-200mm f/4 quite snugly, and kept it dry.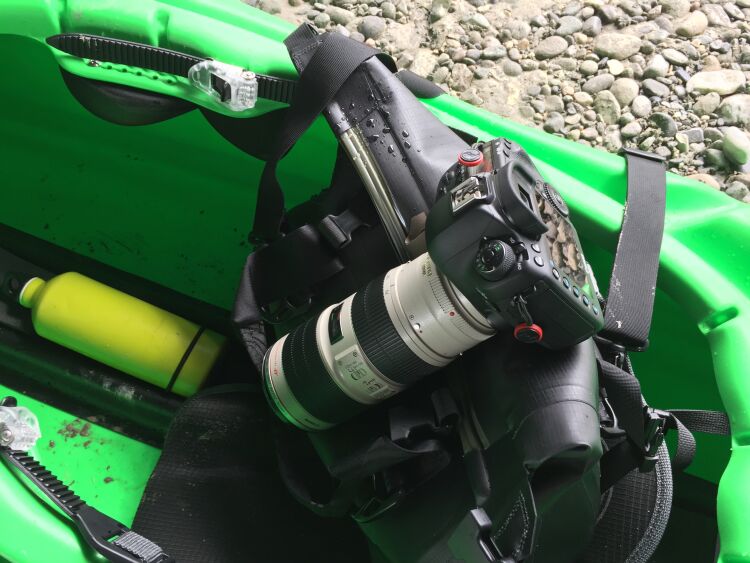 A step up in reliability and size, as well as price, is the Watershed Ocoee dry bag with camera insert. I've upgraded to this in 2019. This dry bag fits a DSLR with a mounted 70-200mm f/2.8 snuggly, yet it can be taken out quick. It still fits a few accessories like batteries, memory cards or a Canon EF 16-35mm f/4 besides a 5D4 with a 70-200mm f/2.8. Highly recommended!
Concluding
This is a diverse set of bags, packs and other stuff. I like each pack that I have, and sometimes switch it up when there is something significantly improved. So in a few years this line-up might look different indeed.
P.S. If you've enjoyed this article or found it helpful, please share it, or check out my other articles. I'm on Instagram and Twitter too if you'd like to follow along on my adventures and other writings, or comment on the article.
---